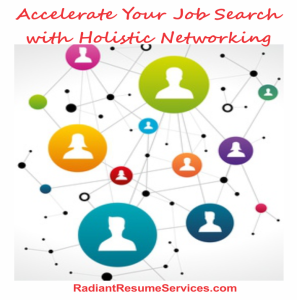 Is your job search dragging on month after month? Did you know the average job search could take 10 months according to the Bureau of Labor Statistics? You need to be earning your new salary NOW! Accelerate your job search with holistic networking and a targeted résumé specifically formatted to use when you network.
The major key to accelerating your job search with holistic networking is to communicate "at regular intervals" with as many people as you can. This energizes networking and accelerates your job search helping you to land your next job faster.
The holistic approach helps you to reach farther by tapping into and expanding your network. For every person you know, they know at least 100 other people. Statistics show that 61% of people hired came from outside the company and 27% were found through referrals! Keep growing your network and reaching out to others that you can help, and you will receive help in return.
Here is a short list of networking possibilities to get you started. Make a list of people you know in each category below:
Family, friends, and neighbors
Professional references (the people whom you asked to be a reference for you)
Business contacts, clients, and customers
Previous managers and co-workers
Community relationships (churches, synagogues, volunteer work, etc.)
Business relationships (barbers, insurance representatives, doctors, dentists, etc.)
Children's friends and school (parents of their friends, teachers, admin staff, scouts, athletic sports, band)
Hobby and craft contacts
Sporting contacts (health club, golf, riding, running, etc.)
College and school friends and alumni associations
Community networking groups and organizations
Professional associations
Email contacts
LinkedIn connections
Social media friends and followers
Connect with people and tell them you are looking for a job. Briefly describe what you do and what kind of position you want to find. Networking contacts can point you to a job opportunity, to someone who may be hiring, to someone within a company you would like to work for, to other possibilities and opportunities that you may not have considered. Regularly connect with your network via personal conversations, networking events, phone, email, LinkedIn, Twitter, Facebook, and Google+.
Don't allow any more time to pass, accelerate your job search with holistic networking and a targeted résumé. Need a professionally written, targeted résumé specifically designed and formatted to communicate your unique value? Contact me today and accelerate your job search with a great résumé to land your next job faster!
For more networking tips check out these books:
Your Resume is Not Enough: How to Network Your Way Up the Corporate Ladder by Brenda Cunningham
Job Searching with Social Media for Dummies, by Joshua Waldman