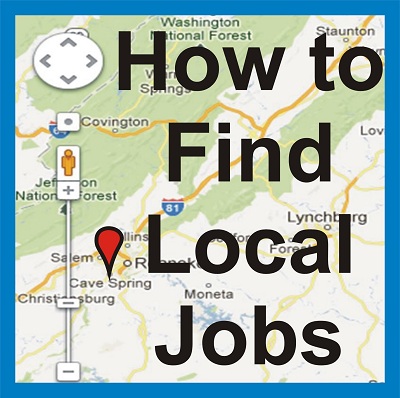 Job seekers have a greater opportunity to get the job they want when they are able and willing to relocate. What do you do when you need to find a job locally? Here, we share some tips for how to find local jobs, even those outside of large metropolitan areas.
A Few Things to Keep In Mind
Many local businesses do not want to pay relocation fees or to sift through hundreds of job applicants just to find those who live locally – so they do not advertise on public job board websites. Small to Mid-sized businesses may not enter their current job openings on well-known job boards because of the advertising fees.
What does this mean for local job seekers? It means there are many unlisted jobs that cannot be found on key job search websites like Monster.com. So how can a job seeker find local job openings? There are many ways to go about a local job search; this article provides a few suggestions to get you started.
Begin Close, Then Increase Your Search Radius
Start out with a fairly close job search; say within 10 to 20 miles of your home. If that does not generate enough opportunities, increase the radius of your search. Out of necessity, many people work 60 or more miles from home.
Local Newspapers
The local newspaper is still a good place to look for local job announcements. Local and independently owned businesses still advertise in their local newspaper. However, newspapers all across America have experienced declines in their subscription rates. This is partly due to younger Americans who want and use electronic and internet technologies.
In an effort to save operating costs, newspapers, have moved their Classified Advertising online. Simply access the local newspaper on the internet and click on their link for Classifieds. From there, you can select Want Ads or Job Announcements. More than 140 newspaper providers nation-wide are connected to Career Builder. They display both local and national job openings in their Want Ad section. Do not forget to check the classified section of newspapers from surrounding areas and cities.
Mega Job Board Websites
The leading job vacancy websites can be searched by Zip Code, City, County or State. A few of the best known are: Indeed, Simply Hired, Monster and Career Builder. Visit the, Links to Job Openings, blog post at Radiant Résumé Services to access these and other websites with just one click.
Local Job Announcement Posting Websites
Local jobs are posted on Craigslist, Geeb, Jobing and Job Dig. You can access these websites directly through this link.
Tip #1 – To make your search more effective; define it by job title or skill set and by locality.
Tip #2 – Set up your search definitions and then sign up for email alerts. This will provide job announcements to your email Inbox that match your search criteria. This can be a convenient time-saver.
Large Local Employers
Make a list of the region's largest local employers and read their individual websites to view the job openings they have posted. Many companies only post job openings on their own website. When making your list, do not forget about these employers:
Local manufacturers and warehouses
Hospitals
Colleges and Universities
Local school system
Utility providers (electric, water, natural gas, telephone, cable, mobile phone)
Big Box Retailers (such as; Home Depot, K-Mart, Lowes, Walmart)
Department Stores
Local Government
Local government provides a range of jobs from skilled labor to those with advanced skills and education. Check out your local City, Borough, County and State government websites.
Staffing and Temporary Agencies
Many businesses cannot fill the man hours required to find qualified candidates, so they turn to staffing, temporary and recruiting agencies. These companies are working for the businesses they staff – not for you the job seeker. However, this can be a good way to get your foot in the door because many of the temporary positions do become permanent within six to nine months.
Manpower, Megaforce, Adecco, Aerotek, TEK Staffing and Kelley Services are a few well-known staffing agencies across the country. Most of these agencies will post job openings with the leading job boards or you can visit their personal websites to perform a local search.
Safe Search Tips
There are dishonest websites on the information superhighway and predators who prey on unsuspecting people, even those who may be looking for a job. Please keep these things in mind when searching and applying for jobs online:
Use Reputable Websites – Limit your internet searches to reputable job boards, company websites and websites recommended by people you know or trust.
Financial Outlays – Beware of job opportunities that require you to purchase expensive training courses, materials, and tools, from them specifically, without firm job offers. Some of these businesses are only looking to sell to you, not to help you get employed.
Scams – are everywhere. Do your research and ask others for their opinion before you get involved with anything that would require you to spend a good bit of money upfront or straight commission jobs that do not provide support, training or leads.
Online Privacy & Identity – guard your identity when surfing or applying for positions online. NEVER give out your social security number, bank or bank card information to any website that is not secure or that you cannot easily verify their legitimacy.
Online Résumés – Do not post online résumés on unsecured websites, especially with phone number and address that are clearly visible.
How to Find Local Jobs and Take Action
Now that you know how to find local jobs, think like your potential employer. Their goal is to find a qualified person to fill their position quickly in the most cost-effective way for their business. If you were in their shoes, how would you find a new employee? This article listed many of those possibilities. Use these resources, compose a powerful résumé and then show them that you are the perfect solution to their need. You will be sure to grab their attention.
For additional help developing a job search strategy, writing your resume or preparing for your next job interview,

contact us

now!