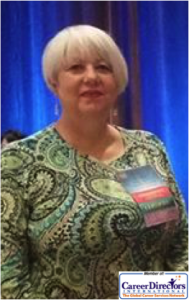 Posey Salem, President of Radiant Resume Career Services, attended the 14th annual Career Directors International Conference. Career professionals, resume writers, and career coaches representing three continents gathered at the Rosen Plaza Hotel in Orlando, Florida from Wednesday, October 14 to Saturday, October 17th, 2015.
During this event, participants received innovative tools and techniques to increase their abilities to help those in need of career assistance. Posey attended cutting edge, masters-level classes that directly benefit the clients of Radiant Resume Career Services. She says,
"I learned cutting edge techniques that can make your job search sizzle." 
Resume Writing and Design for Job Seeker Success
Networking
Social Media
Client Relations
Editing and Writing
Personal Branding
Infographic Resumes
Interview Preparation
LinkedIn for Job Search
LinkedIn Profiles and Portfolios
Mindset and Mind Shift Coaching
Posey Salem is an internationally Certified Advanced Resume Writer (Gold Level Achievement), Certified Master Trainer, Career Industry Leader, Authorized DISC and PIAV Administrator, and Behavior (and Values) Consultant/Coach. Through Radiant Resume Career Services, she offers expert resume writing and career coaching services to entry-level through executive clientele across the United States. She is a speaker and presenter with more than 15 years assisting job seekers in meeting their career and job search goals.
A nationally published professional resume writer, CDI Education Committee Member, and two-time President's Award Recipient. Posey was honored to receive her second President's Award during this year's conference banquet. To learn how you can have Posey Salem speak at your next event or how Radiant Resume Career Services can make your job search sizzle, visit her website at www.RadiantResume.com.